Facilities & Priviledges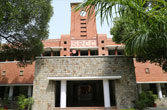 STATE OF THE ART INFRASTRUCTURE
Located in the heart of North Campus Delhi, Shri Ram College of Commerce offers a uniquely stimulating environment and on-campus experience. Our fully earth quake resistant building has been declared as a 'Heritage Building' by ASI- with one of the city's most beautiful views. It is the first college in Delhi University which has a centrally air conditioned building with projectors and LCD screens in every classroom, to give its students access to quality infrastructure.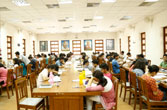 LIBRARY
The College has a well-stocked up-to- date library containing nearly sixty seven thousand books and subscribing to eighty international and national journals. The reading room can accommodate three hundred students. There is a computerised catalogue, an E-mail facility and an online search service. The Library is fully automated with latest state of the art technology.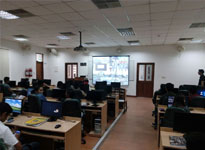 COMPUTER CENTER
The College has a well-equipped Computer Centre with the latest updates in software and hardware. The SRCC Computer Centre is among the best in the University and caters to both undergraduate and postgraduate students. A home grown information system has been developed for all kinds of users to get relevant information. The University's optical fibre lease line is also available and connects the College round the clock to the University's main campus. The College has undertaken further development and expansion of the Computer Centre keeping in mind the changes in technology and requirements of business and industry. On campus Wi-Fi facility is available to faculty members and students.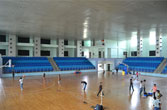 SPORTS CENTER
The College has extensive playing grounds, a swimming pool, tennis court, gym, indoor badminton court, basketball court and tennis court with all modern facilities of international quality. The College has been excelling in sports for over two decades. A new sports complex was built in 2010 on the occasion of the Commonwealth Games.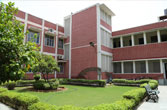 HOSTEL ACCOMODATION
The College provides accommodation to GBO students in the Boys' and Girls' Hostels in the College campus. Hostel accommodation is based on the availability of seats and merit. A few seats are also available in some of the University Hostels.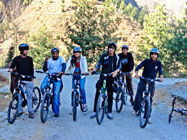 OTHER UTILITIES
The College Cooperative Store provides on-campus facility for books and stationery. The Canteen is a popular meeting place for students. Photocopying facility is also available on campus. A branch of the State Bank of India also operates from the College.